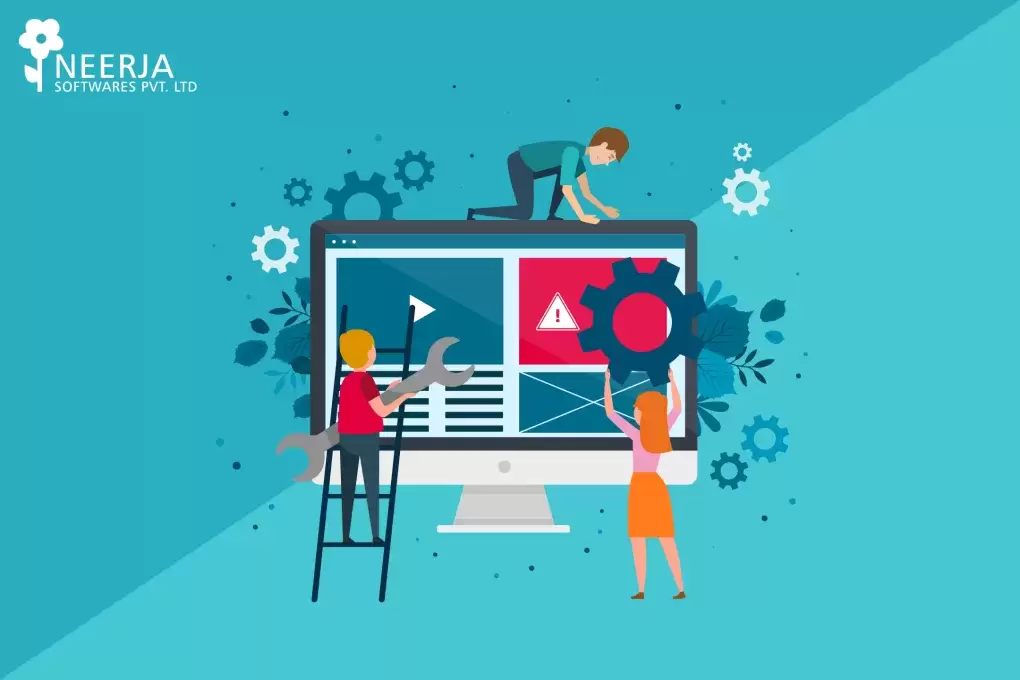 A website is a collection of web pages bundled together on a single domain name on the internet. It defines the presence of a company or an organization and helps them do online business. Moreover, it is an interaction point where people come online, check your offerings, services, products, and communicate with you.
In today's world of marketing, your website is a powerful tool, advertising your company presence 24x7. As a result, you can't risk your business on an outdated website. Studies prove that a well-designed website design (UI/UX) easily twice or thrice your conversion rate.
Therefore, in this blog post, we will reveal some secret tips to improve your website user interface design. Also, we will list some useful user interface design principles, keeping the website user experience checklist in our minds!
The word User Interface (UI) refers to the appearance of the website that enhances the UX - User Experience!
A UI is responsible to make people stay at your site for a longer time. If the visual impression and aesthetics of the site are engaging, then we can say that UX is also good.
In short, UI + UX goes hand-in-hand, acting as a North Star of web designing!
In a digital world, experience matters a lot. If a web designer can improve UI design, then UX will improve automatically. Thus, a web designer's focus must be on improving the website design and UI.
For that, a web designer must learn some latest UI tips. The next section in the blog post is all about helping you to make your website design better.
Let's start!
How to Improve Website User Interface?
To develop an inviting, engaging, and aesthetically pleasing website, you need to create a website UI that apparently betters the UX. And the UI elements help in it!
To do so, you have to implement a seamless and particular user interface design process, followed by every UI design services company in USA.
The User Interface (UI) elements are an important part of web designing that helps in the development of the website. Firstly, you have to -
Maintain A Consistent & Beautiful Aesthetic Between Design Elements
A consistent aesthetic refers to designing a blend or perfect match of all the design elements. Some of the important design elements are color scheme, graphics, text/font choices, style of buttons, white spacing, and more.
Theme all design elements properly among your all web pages. Any quick change in design can confuse users, cause loss of engagement, user experience, and reduce trust.
Make design choices wisely because -
 75% of users evaluate the company's credibility via the design
 80% of users' first impressions are the reflection of the design
 Users just judge your site in 3-5 seconds via design
Many people don't engage with a badly designed website. Vibrant colors, artistic designs, and animations are key to a good website design!
"Always remember that a user takes only 3 to 5 seconds to judge your website. Thus, the correct placing of design elements is critical, such that every user likes the website in three seconds. Also, keep the page loading speed in your mind. It should not be more than 3 seconds."
Voice-based User Interface
While the design pleases your audience visually, voice can directly communicate with them. A little voice on your beautifully designed site can create an excellent user experience.
Nowadays, a sophisticated UI/UX design is dependent on voice UIs too!
Including voices on a website needs a systematic design process concerning writing, image building, contextual style, animation, and data analysis.
However, the biggest challenge in adapting voice-based UI is the quality of human-to-web world interaction. As we enter into the new year, we hope to see new website aesthetics and deepening of UI.
Micro-interactions Increase User Experience
A call to action button, swipe & tap, animated buttons, data input bars, etc. are different micro-interactions that enhance user experience. Micro-interactions improve a website design in two ways:
 On-Screen Quick Communication: A website's micro-interaction keeps user-website communications on, lively, and engaging.
 Visualization: A high-speed interaction is possible only when miniature collaborations between design elements touch human emotions; thus, increasing the user experience.
It is a human-centric design concept where interactive and intuitive design helps website designers and UI/UX experts to provide a better user experience.
Improve Your Website Navigation
Web Navigation eases the user experience!
The positioning of each UI design element and feature decides the website navigation. Also, if you are creating a mobile-responsive website, then navigation plays a critical role.
To make a user-friendly website, set your website menus, banners, headers, internal links, content layout, buttons, etc. quickly accessible. Don't make users search for them. A user must be able to see all these within a couple of seconds, especially on smartphones.
Optimize your website for crystal clear navigation. Improving navigation will enhance your website UI, ultimately leading to a better UX.
Now that you have got a good understanding of the user interface and website design tips, you need to work on the essential website design and development components such as Visual Design, Interactive Design, and Information Architecture.
Quick Web Designing Tips to Improve Website UI
You have understood a lot about UI and how each design element impacts your UI/UX. A beautifully designed unique, sustainable, and responsive web page with a good content layout will definitely help you bring better website conversions.
Focus on the below website design elements to make a better website design. These are the top rules for user interface design:
| | |
| --- | --- |
| Smooth 2D/3D Interfaces | Interactive User Experience |
| Full-Screen Forms | Proper placement of images, PDFs, etc. |
| User-friendly & Mobile-friendly website | Focus on headings & subheadings |
| Utilize White/Negative Space | Good control over typography |
| Well structured web layout | Use Call to Action Button |
| Pick The Right Colours | White Open Space |
| Purposeful Animation | Less use of jargon |
| Good use of CTA's | Gradient, Blazing colors, and Visuals |
| Design & SEO combination | Simple Mobile App Navigation |
| Create easy to read website content | Use of proper heading, subheading |
| Voice User Interface | Diffusive Backgrounds |
| Background animation | Innovative Scrolling |
| Stick to standard layouts | Parallax Web Design |
| Big & Bold Fonts | Compressed videos and audios |
Also, you can follow the new website design trends such as 3D Designs, Parallax Web Design, Split Content, Quicksized lettering, Asymmetric Layouts, Full-Screen Pop-up Forms, Quick navigation, Animation, Custom Images, Voice User Interface, and more.
"A well-crafted UI/UX design helps the website grow better."
Conclusion
With all the above discussion, you probably gained knowledge about website design elements, UI/UX characteristics, best UI design tips, and upcoming website design trends.
Following all the above things together to make a pleasing website will be easy and would save your time & energy. Also, a good website will create a long-lasting impact on every visitor's memory.
And chances are, they would visit you willingly!
If you require assistance on website design and development, then reach out to our WordPress website development company, and let's create a highly responsive, user-friendly, mobile-friendly, and conversion-centric website that grows your business.