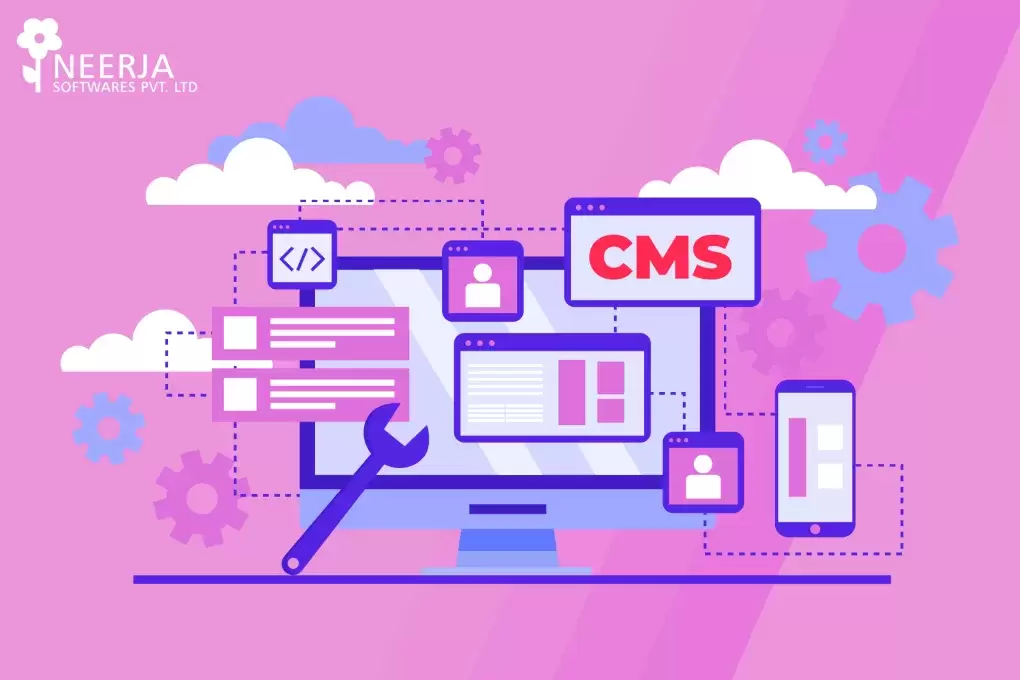 When it comes to content management system for websites development and design, the first thing that comes in our mind is, how to develop a website with full functionality features? Many of us like to know and have been asking most of the times about what is CMS and what all are its features to build a website.
To let proceed for the same, a CMS is similar to a word processor in which you can edit and manage documents the way you want and see. At the same time it allows you to type and add different web elements.
The functionality of content management systems can also be complex for a newcomer. A CMS is more like a database than a word processor in which you can link content together and keep a record of changes made to any web page. The history of Content management systems are been around since when the computers were invented. But it was failed to meet the needs of the printing press in the beginning.
Today, CMS has becomes the first choice of the developers. The 3 powerful content management system software's for websites development and design are:
These are the top three powerful open source systems used today as they are all popular among people that don't know a bit of HTML coding.
Come and let's discuss one by one.
Drupal Open Source Development
Drupal open source was launched in late 2000 in a dorm room by the two students of Antwerp University who wanted to share information with each other. For the first year, it was named "DROP" until the creator, Dries Buytaert, graduated and moved out of the dorm room.   
The name Drupal pronounced "droo-phul" is a Dutch word which means "drop".
Drupal is a free open source CMS software written in PHP and maintained and constantly being updated by IT professionals from all over the globe. It's been a big relief for the non programmers to create a fully functional website as everything is accomplished inside the interface that is similar to a word processor.
Drupal offers most powerful features like built in registration of your e-mail, so maintaining teams of people using your website in a simpler way
At any time you can have a control look of the website with the template option which in turn saves a lot of time to get over the change
Thousands of small and large modules available to give you an ease to work ranging from social networking sites to e-commerce shopping site
Easy to manage the web content material, upload images and create new pages. These all without the need to know more HTML programming
Drupal is best used for a dynamic web content webpage more than blog
With all its advance features, Drupal Development has emerged as one of the most liked open source cms used worldwide.
Joomla Open Source Development
Joomla is free open source cms software that lets you to create web pages easily. Before to begin, you need to learn and go through all the modules. The extent feature of Joomla Development is that it has extensive documentation on how to use the CMS software.   
Joomla has a broad FAQ page to make new people learn the tips and tricks on how to use it the best.
Joomla open source development released under GNU general public license. This means everyone who wants to modify can do as per his need
The development is search engine friendly as it uses an Apache module called rewrite module and enables Meta description, Meta keywords and page title in every page
The one that is most needed is the security when it comes to personal information details. So, Joomla is one step ahead with a team of Joomla Security Strike Team whose main job is to find and fix the security problems
Enhanced with multi language support, that makes it popular among the non-English users. This feature also lets you to create a site with 2 or more different languages. After all, Joomla is trusted by thousands of web developers across the world. If you need a website, you can undoubtedly rely on Joomla
Look is the most important feature when it comes to design a website. Joomla support and give beautiful and free templates to the Joomla developers.
WordPress Open Source Development
Wordpress is new to the cms market and was released in 2003. In few years only it has become the benchmark for automated SEO optimization. The WordPress plugins automates most of the difficult tasks which comes with making a website for a definite purpose.   
WordPress is the easiest to learn from the other two open source software's and is mostly used to develop a WordPress blog. The most important of having a website hosted by WordPress has its drawbacks as if you don't have control over the website than your can be ban under the rules.
WordPress is most search engine friendly than the others and can be customized without violating the rules
Easy to learn and get the development site
Not used for a large API development
WordPress allows easy to use administration panel to publish a content or information to a web page
When it comes to a blog creation and development, then no one can win the race with WordPress.
With all the above top 3 best CMS Softwares for website development and design you can opt the one that specify your need.