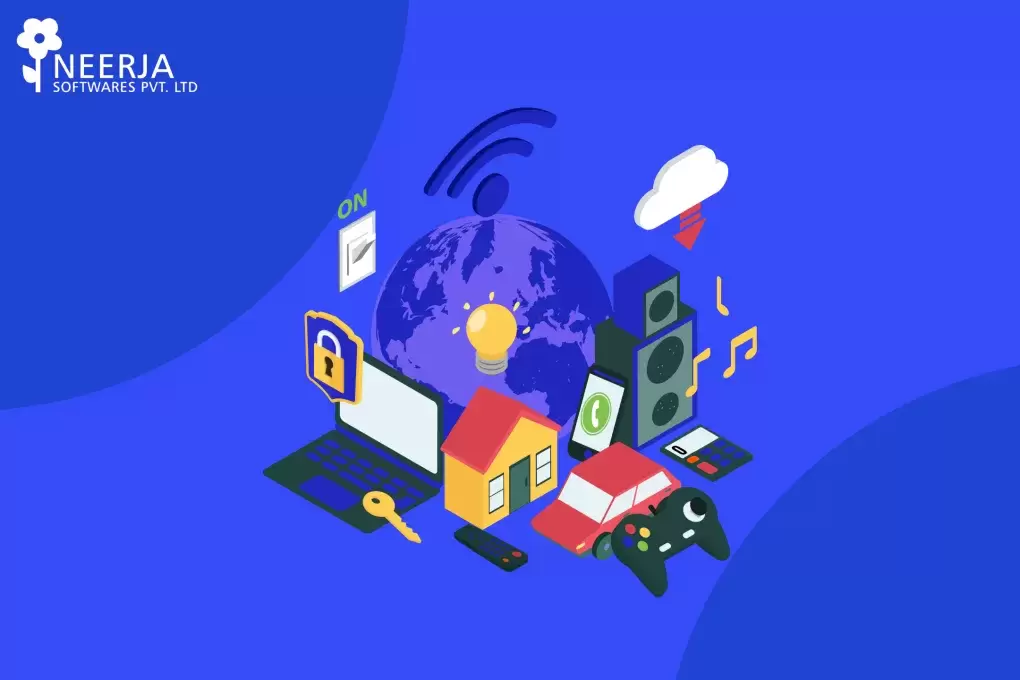 The internet plays a vital role in every sphere of our lives; in fact, every one of us is dependent on the web. Even, businesses and markets are using the Internet to communicate with people all over the globe. Therefore, remaining updated with smart technologies, tech devices, and applications is essential to reach out to any group audience.
Now among the many technologies introduced in the past few years, one that has revolutionized the entire world, is the Internet of Things (IoT) solutions.
"IoT is a worldwide network of different interconnected objects based on standard communication protocols."
It is inter-networking of devices that use conventional technologies, like microcontrollers, radio frequency identifiers (RFID), sensors, actuators, bar codes, GPS (Global Positioning System), internet & communication protocols, and satellite technology.
Internet of Things (IoT) and Web Development
IoT technology does not just impact consumers but also affects the IoT solution providers. Since the network of all connected devices relies on web servers, the complex IoT networks have set some new challenges for the developers.
"Some even believe that IoT is reshaping the web development process."
The connection between devices relies on web servers, thus making storage of data on Cloud. Furthermore, the communication between devices takes place with the help of advanced messaging protocol.
However, many devices display web content, but only a few of them can search the web through browsers. For example, Amazon's Echo can search the web via Alexa which actually is a virtual assistant.
Today, every person owning a smartphone experiences Internet of Things (IoT) at one point in time. In coming times, it is highly possible that businesses and enterprises would use a blend of wireless technologies and sensors to get success.
Apart from this customers would use IoT devices to get personalized & customized services or products. All of us would be capable of tracking IoT devices using sensors and analytics. We know that the technologies are getting transformed due to the Internet of Things (IoT). Likewise, web development is also getting changed with IoT, Artificial Intelligence and Machine Learning.
A few web development platforms like DRUPAL and WORDPRESS are excellent examples that show the transformation in complex web development.
The process of web designing and development is going to be complicated with IoT as the users start communicating with the internet of things devices. A few IoT (Internet of Things) example are cameras, sensors, Drones and server based audio assistants.
"Internet of Things (IoT) in web development obtain personalized data from IoT devices."
It is easy to predict that there will be no delay in transmission during web development and the users communicate with IoT devices in the back-end and web developers use IoT to build a dynamic front-end interface.
Examples of IoT in Web Development
There are many web developers and mobile app developers that are unaware of the existence of such devices that display web content in front of people. Few of internet of things devices are given below:
Personal Assistants:

In the world of computing, it is a new trend where smart voice assistant like

Echo, Alexa, Microsoft's Cortana, Apple's Siri and Google's Now

are operating electronic appliances. Also, the internet of things (IoT) can access bots that read information instead of displaying it visually.

Smart watches:

These watches come in a wide range and colors. For example,

Android watch, Google watch, and Apple watch

all can connect to multiple web browsers. Web development needs to become more dynamic and robust to run web browsers in these IoT applications.

Computing devices:

Devices, like

Raspberry Pis

though have smaller screens, can display web content. However, the context of every content can be in the form of a web-based device control page and a local dashboard styling web displays.

Smart Cameras:

Installation of web cameras everywhere is already happening in the USA, and many web development or app development companies are in favor.
Internet of Things(IoT) is a massive breakthrough not only in web development but also in app development. The most common example of innovative IoT apps or mobile apps supporting IoT is surveillance cameras.
Embedded Systems is also playing an essential role in IoT app development to make home automation easy. In other words, IoT development is happening quickly intending to make our lives a lot easier.
Industries in the Internet of Things (IoT) Development
There are several categories of industries each industry need apps and shorter system to automate tasks. For example, in the healthcare industry, we can monitor heartbeat levels, the number of steps taken while walking, etc. in an app.
Industries and companies hire iot apps developers for utilizing IoT solutions in each of below sectors, thus enhancing productivity.
Retail

Energy

Healthcare

Automation

Computation

Machine Learning
Internet of Things (IoT) tends to become a real game-changer in the area of technology. More importantly, it had arrived at those crucial time when users were looking for a simple, secure and hassle-free technology that adds to their daily life convenience.

In case, you are also looking to receive benefits, then get in touch with a reputed Iot app development company or hire IoT aap developers to adapt inventory experience of coding expertise and utilize their strengths.