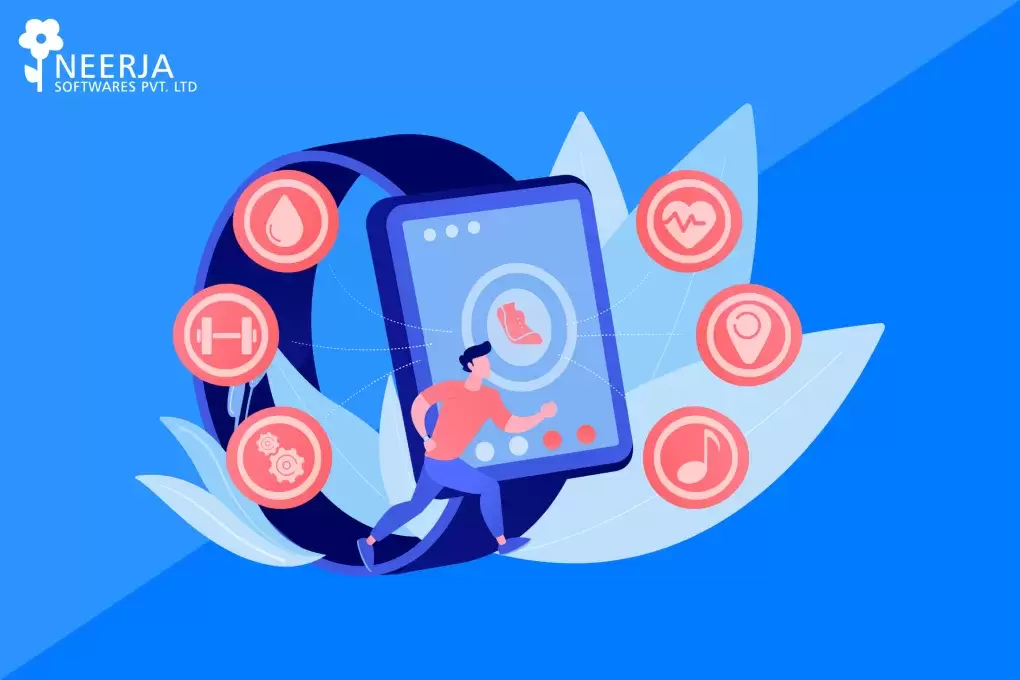 Entrepreneurship has become a popular topic of discussion in many parts of the world. It's also an academic subject that's taught in a variety of business schools. People who desire to establish a business usually pursue such educational opportunities. People who wish to start a mobile app business in the future will have more options. Wearable device Apps are attracting a lot of interest from start-ups and small businesses.
Thanks to technological improvements, wearable devices are no longer confined to wristwatches. Wearable technology such as smartwatch development, wearable activity trackers, and hearing aids has become crucial in our daily lives thanks to the Internet of Things (IoT). In the garment and healthcare industries, wearable products are mass-produced.
Two gadgets can communicate via the internet using wearable technology. The bulk of these accessories is designed to be used with cellphones. To keep track of data, the bulk of wearable technology gadgets require a mobile app. These modern devices like smartwatch development kits are still in their early stages, and they have a long way to go. Over the previous two decades, wearable technology has grown in popularity at an exponential rate.
How Do You Plan, Design, and Develop a Wearable App?
You may not be aware of the fundamentals of app development as a fledgling business. You are not required to go into the core, but you must understand the fundamentals of the development process to achieve a better result. We'll show you how to plan, develop, and construct your wearable smartphone app as a start-up business in this section, as detailed below:
Conceptualized and strategized the ideas
Before you begin the app development process, you may have several ideas in mind. Now you must combine all of your ideas to get the ideal option for your app development project. You can also request that the app development team come up with other concepts for developing apps for wearable devices. These suggestions can help you maximize the possibilities of your app business in the future.
Data Gathering
The second aspect is data collection; without it, you won't be able to predict if your project will succeed or fail in the future. Data is information that can assist developers in creating the ideal app for users. The lower the amount of knowledge accessible, the more likely the project will fail. Your business strategy aims and objectives are among the details. You must share it with the team working on the Wearable App.
Checklist for Planning
If you are planning your Wearable App then we recommend you make a planning checklist of the goals you want to achieve during your app development process. These goals can be divided into n categories. You must complete each of the objectives one by one. If you don't have an in-house app development team, you can share the checklist with them.
Choosing a user interface
Before delivering your mobile app, your app development company can recommend multiple app designs. Based on user-friendliness and engagement limits, choose one of those designs. That implies the app's user interface and user experience (UI/UX) must be top-notch. It's also crucial to maintain user interest. As a result, for optimal performance, you must ensure post-launch design maintenance.
Context
Then there's the context of the many types of app content. App companies cannot succeed in the market without relatable and easy-to-understand app content. You can now build augmented reality (AR) and virtual reality (VR) content to provide app users with a better experience. Hire Wearable app developers must also guarantee that their content is device-friendly.
A guide for Building your Wearable Application to Non-Engineers
After you've done some basic prototyping with your ideas and features, you'll want to tweak your layout drawing to make it even clearer and easier to follow. During this procedure, you'll have multiple opportunities to identify any design flaws.
Here are some things to think about when you construct your project:
App Complexity
For example, the calculating power and machine that a mobile phone employs were designed to fulfill the high ongoing specific requirements. A wearable, on the other hand, is intended to manage direct associations rather than a large load of processing requirements. Given the inherent differences, while creating a versatile application for your wearable device, you should choose which types of apps to include and which to exclude.
User Base
Because the customer base for mobile phones and wearables is various, the app development process will be unique as well. Recognize and understand for whom the app is being developed, what type of app is being developed by the segment, and what significant adjustments should be done.
Security
Whether you're using a cell phone or a wearable device, data is collected. However, the data gathered through wearables is quite basic as the data is delicate, as evidenced by the individual's location, well-being data, likes dislikes, proclivities, and so on. As a result, wearable technology app designers must deal with the client's data and ensure that the data's security remains immaculate while it is used.
Integration
To make the combination work, the engineer must first determine which information is required for the operation of a wearable application and then use SoC (framework on a chip) to interface with multiple sensors and actuators locally. API allows users to share data from a variety of wearable devices and apps in a standardized manner.
Prototyping
Before putting time and money into development, it is critical to comprehend and know your concepts and the rationale behind a design or feature. How the wearable device app interacts with users and presents data is really important. It should be straightforward to comprehend. Too much information leads to perplexity and a poor user experience. As a result, prototyping is the ideal alternative before proceeding with development and launch.
Conclusion
The market for wearable apps is still in its infancy. Custom mobile application development services provide lots of room for innovation and a slew of highly lucrative business and entrepreneurial prospects. Companies like Google, Apple, and Samsung continue to invest heavily in this area to reap the benefits. Connecting these islands with data is the main challenge in deploying wearables as part of the Internet of Things. The challenge comes in the form of a correlation that allows us to gain fresh perspectives on ourselves and the world around us.